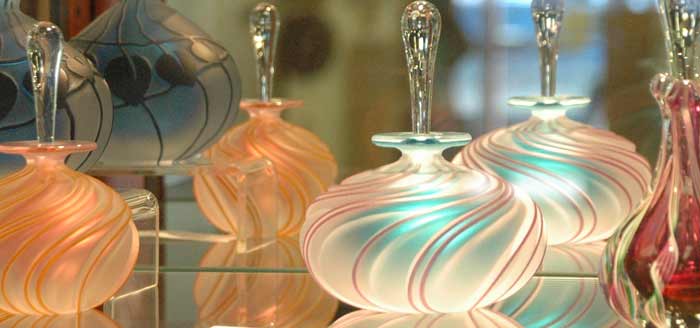 Vermont Artisan Showroom in Brattleboro
When you're looking for Vermont art and artists, your first stop should be the Vermont Artisan Designs Gallery on Main Street in downtown Brattleboro.
You'll find not only paintings and sculpture but a wide array of fine hand-made crafts, including glass, jewelry, pottery, wrought iron, fiber art, lamps, Judaica, kaleidoscopes, turned wooden salad bowls, and high-quality furniture, including the fabled Vermont folk rocker -- all this in a gallery setting that will keep you entertained for as long as you'd like. There's both functional and decorative work from well-established and emerging artists. Don't hesitate to ask questions about our gallery or our town. We're happy to help make you feel at home. As many of our visitors tell us, "We'll be back and we'll bring our friends!"
Something for Everyone
You'll find both functional and decorative work from well-established and emerging artisans: paintings, ranging from landscapes to still life to abstract; sculpture in bronze, wood, paper, wire, mixed media, stone, steel; colorful and clear blown glass; a great selection of pottery; beautiful hand-painted silk, as well as woven chenille and velvet, scarves; carefully turned salad bowls; exquisitely finished furniture including a rocker that you will swear was made just for you; a great selection of Judaica featuring a wonderful collection of menorahs; entrancing kaleidoscopes; subtle sounding chimes; photographs that capture the essence of Vermont; lamps to accent your home or office; and other wonderful items for you to discover.
Stay In Touch
We came to Brattleboro because we had heard about the famous "Gallery Walk", but nothing prepared us for what we found at Vermont Artisans ...